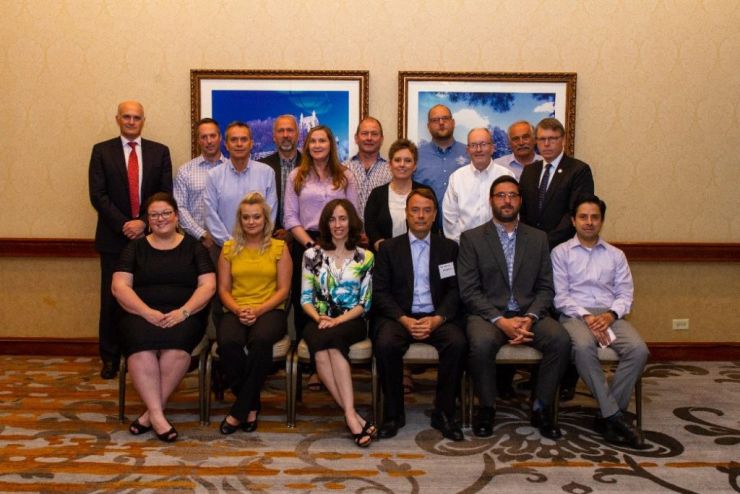 TAM, Inc. is pleased to announce its acceptance into the July 2019 Class of the Virginia Leaders in Export and Trade Program (VALET Program). The VALET Program is one of several programs offered to Virginia Companies by the Virginia Economic Development Partnership (VEDP) to develop international sales.
VALET is an exclusive program, offered twice a year in January and July to a limited number of Virginia companies. The July 2019 Class is comprised of 14 companies and brings the total number of companies participating in the VALET Program to 45.
TAM was first nominated by the VEDP's Southwest Virginia International Trade Manager in March of 2019. TAM's application process included commitments of time and people to attend annual meetings in Richmond, at least one Trade Mission outside of the US and also the necessary capital to further its international business efforts. Following a welcome dinner on July 10, 2019, Executive Director Ricky Thomas and Managing Director Brad Rodriguez attended a day long orientation on July 11, 2019 at the Omni Hotel in Richmond, Virginia. During the orientation Ricky and Brad learned more about the benefits and resources available to VALET Program members.
VALET has more than 20 International Trade Partners which are made available to VALET Program members at special rates. These International Partners work in a multitude of fields including: legal counsel, accounting, banking, shipping and logistics, marketing, translation and market research. Each International Trade Partner is specifically focused on how their field is applied to international business and they themselves go through a rigorous application process, just to be a Partner of VALET.
International Trade Missions may be one of the most impactful opportunities for VALET Program members. After completing up to eight weeks of market research, target countries are identified and in-country representatives of VALET will begin setting up lodging, transportation and a series of targeted, effective meetings with interested potential customers. Trade Missions are attended by multiple Virginia companies from multiple industries, which allows time for gathering in the evening to discuss the days meetings and plan for the next day. It was reported, not only by VALET management, but also by VALET alumni that these Trade Missions are both very intense and hugely influential to international business development. While not all Trade Missions result in a signed business deal, they nearly always result in a meaningful and potentially profitable business relationship. VALET can also assist in setting up Individual Trade Missions, where companies can go on their own to meetings that are arranged by VALET or by the company itself.
VALET also offers a financial benefit for the program members by making up to $30,000 available to each company in the program. This money can be used for reimbursement for a variety of activities including Trade Mission fees, international trade show fees, international shipping costs, training, certification/compliance, website optimization and market research.
Being a member of the VALET Program will assist TAM with current projects. TAM has been hard at work developing its Scorpion 6 Laser Perforator for sale in the European market. Funding and assistance from the VALET Program will help TAM overcome a number of hurdles to get this product ready. CE Certification is a requirement for any product exported to the EU. This certification requires the product to pass testing of its safety and operational systems and it requires the equipment to possess a detailed technical file in both English and its destination's language. The VALET Program can help fund both of these activities and provide an International Trade Partner to assist with the translations. International Trade Partners will also help to ensure all the documentation is in order, so the product meets all export requirements as it leaves the US and all import requirements when it hits the port of entry.
The VALET program opens new opportunities in new markets for TAM. VALET's market research and Trade Missions can assist TAM in finding new applications for its laser technology and introduce us to new potential customers around the world. Exhibiting at international trade shows becomes less of a burden both financially and logistically through the partnership. Reimbursement of exhibit and set up fees from VALET reduces the financial impact of trade show exhibiting. Additionally, the VALET sponsored Virginia booth, which is present at many large trade shows around the world, is open to VALET members. Making use of the Virginia booth offers preshow marketing opportunities, exhibiting space and in-show meeting rooms for customer engagement without the need to design, purchase and set up a company booth.
In the two years that TAM will be a member of the VEDP's VALET Program, it is our hope and intention to purposefully drive our international footprint and become an impactful member of the worldwide marketplace. TAM feels that this is not just an opportunity to improve our business standing, but an opportunity to bring new possibilities to the community around us. Today, more than ever, business takes place not just on Main Street but globally and TAM is proud to bring that global market home.
---